The artwork of Claude Le Roy is described as "like a graphic improvisation, unbridled and meticulously painted or coloured with details like an illuminator" (Art Historian Laurent Danchin). His giant canvases with their intricate imaginary calligraphy reveal his memories of growing up in Algeria. Painting the colourful symbols comes naturally to him he told me, just as easily as remembering his youth. It makes them very personal pieces.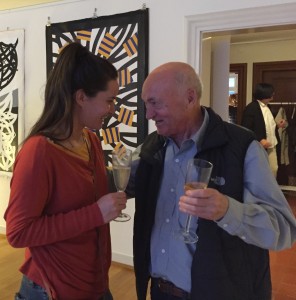 Born to a French father and a Spanish mother, El Roy as he is known enrolled in a ship boy school when he was just 14 years-old and after a number of different jobs found himself in Alsace, working as a customs agent for the French government for what would turn out to be for the next fifty years of his life. It led him to visit nearby Basel, a city renowned for its art and which in turn put him in touch with like-minded others who would go on to inspire him and encourage his work.
During this time he developed and cajoled his diverse art style, painting and sketching and introducing lithography, bringing these often giant pieces together at exhibitions in France and Switzerland to display on his own or as part of a group.
His collection of artwork is vast (he has amassed more than 500 drawings) but with this creativity comes the deep desire to display this work in a fitting and meaningful way. "Sometimes I look at my work and I think to myself was that really me who painted that" he says.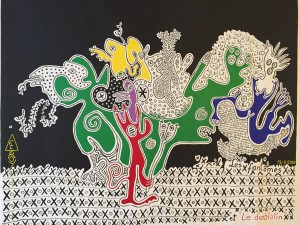 Ideally he would like to find a gallery to exhibit his work on a long-term basis but in the absence of that, finding a commercial space willing to display (and sell) the art is another desired option. Art displayed in this way exposes it of course to the many employees and customers who walk through that very space every week. El Roy's colour and detail would certainly brighten and enhance any workplace, hotel or restaurant.
But whilst those starting out on their art career would find this advantageous in helping to establish their name and grow their brand, El Roy who is in his 70's is a long-established artist looking to secure a home where his lifetime's work can be kept together and be appreciated for what it is.
El Roy is one of a number of artists living in this interesting corner of Europe who can exhibit their work thanks to the non-profit art agency Front of Bicycle. Their aim is to bring together and promote the diverse range of artists living in and around the cross-border community by Basel.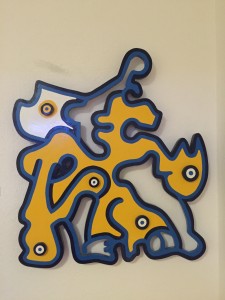 This is an artist not afraid to express himself and who has explored a less conventional style for one that mimics his life history. All the more important then that his lifetime's achievement is given a fitting public platform to allow it to be appreciated.