Beneath the dazzling lights of Basel's ancient Herbstmesse fair, I found myself wandering the cobblestones of Munsterplatz today, with a young Syrian family who arrived in Basel with their children three weeks ago. This was the first day the Kurdish family of five had felt brave enough to venture into the city.
"What is it like being in Basel?" I ask them. "It is a great city" Salman tells me through an interpreter…"we are happy…we feel good." You could hear the excitement in his voice. The family of five left their home in the northern city of Al-Qamishli and travelled to central Europe through Turkey, Greece, Macedonia and Serbia, a long journey much of which was on foot.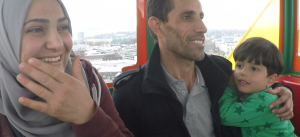 I watched as they and their son laughed excitedly as they sat aloft the city's rooftops in the giant ferris wheel that is the centrepiece of the annual fair…and of course like any other family I watched as they comforted a toddler who cried and complained at times, as toddlers do. They are nervous but excited about their lives ahead.
The ride's operators donated around 60 tickets and sweets to refugee families so they too could enjoy what many others take for granted. Just as generations of families have gathered on this cathedral square to enjoy the annual autumn fair, today this family felt no different.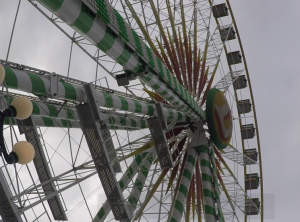 They are one of a number of newly arrived families across the city benefiting from the work of volunteers from the recently formed Basel hilft mit. The group has been inundated with public donations of clothes, toys and other essentials which they have sorted and will take directly to refugee camps in Syria in the coming weeks.
Since Syria went to war more than four years ago, Switzerland has taken in around 9,000 Syrian refugees and the government has pledged to increase its financial contribution to help displaced people. But the number of refugees arriving at Swiss borders is far less than initially anticipated. There is a small Syrian community in Switzerland which may be one reason why they do not necessarily make it their first choice of place to live.
"We are happy…we feel good"
Salman told me he and his family have long dreamed of making this country their new home. They and the many other refugees seeking asylum in the city know they are only at the start of their long journey. They are grateful to have made it to the safety of a stable country before winter bites. Many others making their way across the Balkan states continue to face closed borders and the threat of a harsh winter. Wandering those cobbled streets today, I saw relief in the eyes of those who had left behind their difficult lives in search of a stable and more caring one.