"I would have more kitchens in the streets – outdoor kitchens and cooking – people could cook and eat together, get to know each other, learn things."
This is just one of a wide range of answers given to the question "What would you change about life in Basel?"  The same group of people who were also encouraged to talk about their fears and aspirations have one thing in common: they all live in the city but they don't have the right to vote. The idea has been the impetus for the poster art project And For The Rest by British artist Tim Etchells and it's no coincidence that it's running at a time when Switzerland has just gone to the polls in a general election.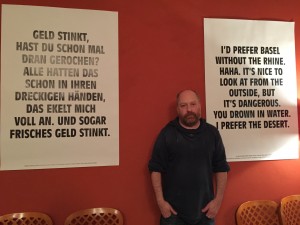 The artist wanted to explore the idea that by having a vote you have the power to bring about change. Those without this right, namely refugees, children, people with psychological problems are denied this opportunity and don't have an official say in where and how they live. A series of 24 interviews revealed people's appreciation of living in an orderly and stable country but the artist also found in many cases it was coupled with a deep desire to hold onto their memories and languages of where they'd come from.
"Sometimes I dream of a Syrian coffee morning with laughing women and loud voices"
The quotes were carefully selected from the interview transcripts and translated into German and English. The stark black and white posters are displayed on the huge billboards used to host the campaign posters of the various political parties. City officials gave permission for the boards to be displayed at certain prominent places around the city. And it's been a huge talking point for those going about their daily life with many tweeting their pictures of the posters.
Schon gesehen #basel #nachderwahl #andfortherest pic.twitter.com/0uj3FCYPCx

— Kaserne Basel (@KaserneBasel) October 21, 2015
Tim Etchells has long thought that public space is dominated by advertising and political messages. To him, this project has been about listening to others and opening up something over which he has had no control. "Speech is temporal…it's living…it's a process" he told me "but when it's written down the words take on an absoluteness".
He first carried out the project in Brussels and was approached by the contemporary art centre Kaserne Basel and asked if he'd do the same again. The answers given here he says were more reflective in nature than those given in Belgium. Next year he'll take the social experiment to Greece and says he's already excited by the prospect of what will come from that.
The exhibition of posters can be seen around Basel until the 22nd November 2015.