Updated February 28, 2016
The people of Switzerland have once again been to the polls to exercise their citizen power over four very different issues. This time they cast their votes over a right-wing initiative to deport convicted foreigners, a challenge from environmentalists opposed to a second Gotthard road tunnel, a proposal to introduce tax breaks for families and a proposal to prevent financial institutions speculating on foods. Only the road tunnel initiative was approved.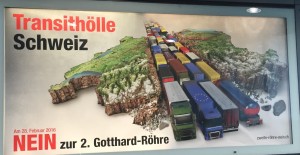 But just as direct democracy is second nature to the people of this country, so it seems is the acceptance of the brash and increasingly risqué imagery of the political posters that accompany many of these campaigns. From roadside billboards to station platforms, these striking images scream out in these public spaces.
Posters of course by their very nature are designed to be eye-catching and appeal to a mass public but if those images continue to meet with global condemnation should they be allowed to stay? It seems so in Switzerland.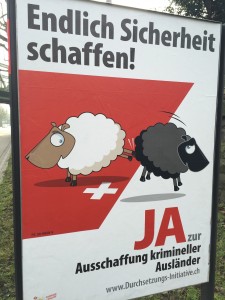 The Swiss People's Party (SVP) brought its widely criticised sheep poster back into use again, to champion its controversial Durchsetzungsinitiative which proposed to automatically deport any foreigner convicted of a serious crime or two minor offences in any ten-year period. Critics feared the rule of law was at risk. Voters today rejected the initiative by almost 59 percent. Their campaign poster shows a white sheep kicking a black sheep over the border. The party was criticised when it used a variation of the poster in 2007 and again in a successful 2010 referendum campaign on immigration. Similar imagery in other countries would have heralded calls for an outright ban.
But whilst citizen power encourages an openness and freedom to debate, just how far is too far with these striking images? During the campaign, Swiss Federal Railways removed a controversial swastika-style poster from its railway station after receiving complaints from customers.
— Martin Landolt (@LandoltMartin) February 15, 2016
The image which shows the white cross of the Swiss flag turned into a swastika was tweeted last week by the Conservative Democratic Party (BDP) chairman Martin Landolt in response to the SVP's initiative and reads "No to two classes of justice" and draws comparisons with historical Germany and South Africa. SBB is reported to have removed the poster because rail stations in Switzerland are considered public spaces and it said showing the swastika in such a visible place was going beyond what is reasonably acceptable. It added withdrawing the poster was an isolated case.
Was it the blatant display of a symbol synonymous with fascism that deeply offended those who complained…or the manipulation of the iconic Swiss flag?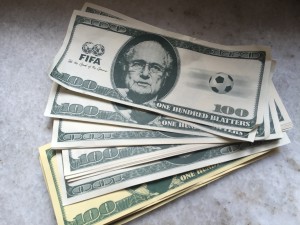 The Swiss are used to speaking their own mind. Only last week, during Switzerland's largest annual carnival, Basel's Fasnacht, the people of the city poked fun at political issues including the FIFA corruption scandal, handing out thousands of replica dollar bills, or so called "Blatters". They mocked FIFA but they know the scandal has hit at the very heart of the Swiss image.
Direct Democracy affords those here with a freedom to express themselves in a way others in the world simply can't. This particular ballot though seems to have taken feelings to a whole new level with those at the heart of the campaigns not afraid to use pictures that may frighten or offend.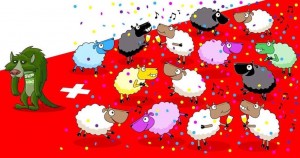 This image released by campaigners shortly after today's result mocked the black sheep anecdote that arguably set the tone for such risqué campaign imagery, which in turn provoked the strong feelings and debate that have come to define this particular Sunday vote.