"What is this life if full of care we have no time to stand and stare" so said WH Davies and today I've been heeding his words and making time to people watch. And what better a day to do it on than at this huge party in Basel. Tonight the city plays host to the Europa League Final at St Jacob Park (or "Joggeli" as they call it locally) where Liverpool play Seville, and even I who couldn't explain the offside rule recognises when two sides are equally hungry for that big prize.
Basel has been described as being all about the three 'Fs' namely pharma, football and fasnacht. Today I saw all three come together. Liverpool fans happily enjoying their beers in the sun by the Rhine, in the shadow of the big Pharmaceutical companies, and as I sat in the hairdresser a Fasnacht clique marched past loudly and proudly and brought scissors and hairdryers to a standstill momentarily as everyone peered out of the window at them.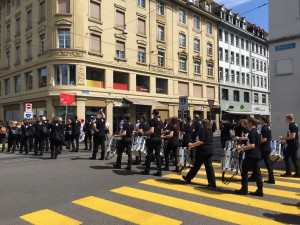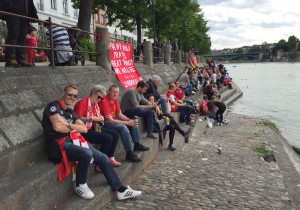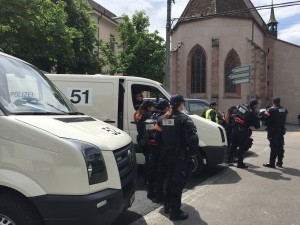 But what must the Swiss really think about all these noisy colourful fans careering along the cobblestone streets of their beautiful orderly city? Without doubt Baslers love their team and their football but when you leave one of their games it is an organised affair with fleets of trams lined up ready to depart on schedule. Fans drink and smoke in the stadium and the air is as charged and as blue at times as any other, but there's a definite orderliness to the whole spectacle. Swiss police are reported as welcoming the many tens of thousands of fans to Basel today, promising to keep them safe and give them a good party.
There are those of course who will love this sea of fans flowing into their city. The Swiss are good at making money and it can be no coincidence that a huge stall selling Focaccia bread to the Seville fans just happened to pop up today outside a city department store. Win or loose these fans will definitely be on the booze and the city's hoteliers, beer and bratwurst sellers will be shouting En Guete to that! With a reported 49 flights leaving Basel between midnight and 5 am tonight…this is one big earner for the city.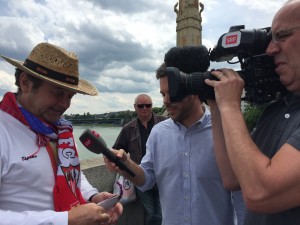 As I stopped to enjoy the antics of some Seville fans who'd offered to give an impromptu interview to a Swiss TV crew, a Liverpool fan stood next to me lent over and asked "wanna buy my scarf?!". We laughed…perhaps his beer money had run out too quickly…it's easily done in this beautiful and expensive country.
Fans will no doubt continue to pose for selfies and lap up the beer and warmth of the sun until those not lucky enough to have a ticket can gather at the city's big screens and watch the beautiful game as they call it unfold.