"I'm thinking of taking them skiing tomorrow…the forecast is good. Do you think it's too ambitious on my own?
"It is a bit" says my husband (who'd be at work)…but good for you. I'll help you pack the car".
It's the half term holidays and we live an hour and a half's drive from Beckenried in the Swiss Alps where a short cable car ride takes you to Klewenalp. There are closer ski areas of course but this is especially geared up for families and after several day trips here I'm familiar with it and there's comfort in that.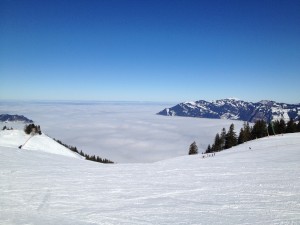 Day trips to the mountains year round have become something of the norm now. When we first moved here five years ago, the prospect of dragging children, a buggy, nappies, milk, lunch, (boots, skis, helmets and sledges in winter), the list is endless, up some enormous snowy mountain did not appeal in the slightest. But now we're well rehearsed at keeping a watchful eye on the forecast and with work and other commitments allowing and a bit of preparation and an early start, there's a wealth of fabulously wild days to be enjoyed.
As I stood on the packed cable car that morning, jostling for space, sandwiched between the day's supply of fondue bread and two older Swiss woman preparing to snowshoe, any doubt that taking three small boys into the high alps on my own was physically ambitious, ridiculous even, soon left me when I encountered around 5 other women doing exactly the same thing! Uber mums, well practiced in this art. I surreptitiously scanned their set up…ski boots hanging from the buggy handle, the sledge tethered to that too and laden with skis. One woman passed me going uphill, snowshoeing, with a baby on her back. Another pulled a sledge with ease with baby nestled into his cosy snowsuit. Later in the day we skied down past an older woman pushing her zimmer uphill on its skis.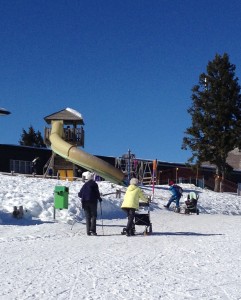 But really these woman are no more uber than you or I. For you see the Swiss make it easy to attempt something like this. My children's daily tram tickets allowed them free travel on the cable car (now that really is an integrated transport system) and it demonstrates that in this country mountains are not a barrier, but can provide an opportunity for a great day out with children of all ages. Just about anything can be taken up or through a mountain here…it's not uncommon to see Alphorns being played for example. So I ask you…why settle for a day at your local park when there's an enormous snowy playground at 1593 metres. A climbing frame with a huge picnic area, enough snow for even the most inspired igloo builder, a well thought-out sledging area and of course ski school and a crèche.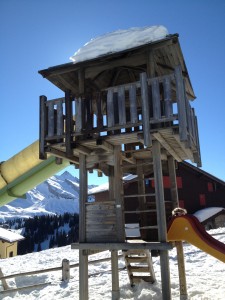 Ok in truth I was tired by the end of the adventure and there was the inevitable whinging from the little ones towards the end of the  day as their boots became heavy on their feet and their bodies weary from the day's exertion. But it served as a reminder to me that having little ones and being in the mountains are not always exclusive. With the right set of conditions and good preparation there  is a rewarding and memorable day to be had. And of course…with the sun splitting the skies, there's almost always no end to the  things you believe you can achieve if you really want to.